Amberoscope - kaleidoscope with amber
Do you remember kaleidoscopes? Of course, you do! These inconspicuous tubes hiding fascinating worlds inside them which change with each move were invented by a Scottish physicist David Brewster, who conducted studies into light polarization.
They were created in 1816 and patented a year later. This symetroscope made of two mirrors was initially used as a scientific instrument. Later, somebody had an idea to add the third mirror, which enabled smooth and continuous viewing of new images. That's how a kaleidoscope was created – an educational toy, which became a hit at the end of the 20th century.
It's also, an incredibly inspiring toy – even nowadays. A few years ago, my dad and I were looking for an interesting idea on how to present natural amber and wood in an unconventional way. The materials that, as you know, are especially close to me. It was then that the idea to create an amber kaleidoscope came about for the first time. It was given the graceful name of the Amberoscope.
After a few years of working on this unique project, a meter long, rotary amber telescope was created and placed in a solid stand. The telescope consists of a system of mirrors and the heart – a Petrie dish of 20 cm diameter, filled with a liquid whose properties allow slowed down movement of small pieces of amber and wood floating in it. The liquid polarises the light and as a result the transparency and clarity of the pictures is unique. According to probability theory, from the 10 pieces of natural, transparent amber and wood placed in the heart of the Amberoscope, it is possible to obtain as many as – 3,628,800 combinations! Impressive, isn't it?
But it's not the end of the possibilities offered by the Amberscope. We have also made sure that admiring these fascinating, magical worlds is an individual, but also a beautiful experience, which you can - or even ought to - share. That triggered the idea to combine the Amberoscope with a camera or projector in order to create the possibility of showing the pictures on larger surfaces – thanks to which, many people can see them at the same time. It's ideal for mapping – when combined with an interesting soundtrack it can give an absolutely spectacular effect. Women's scarves and men's pocket squares have turned out to be another idea to use the most beautiful patterns shown in the Amberscope – also spectacular, but on a smaller scale – they are captivating thanks to the depth and mystery of their patterns.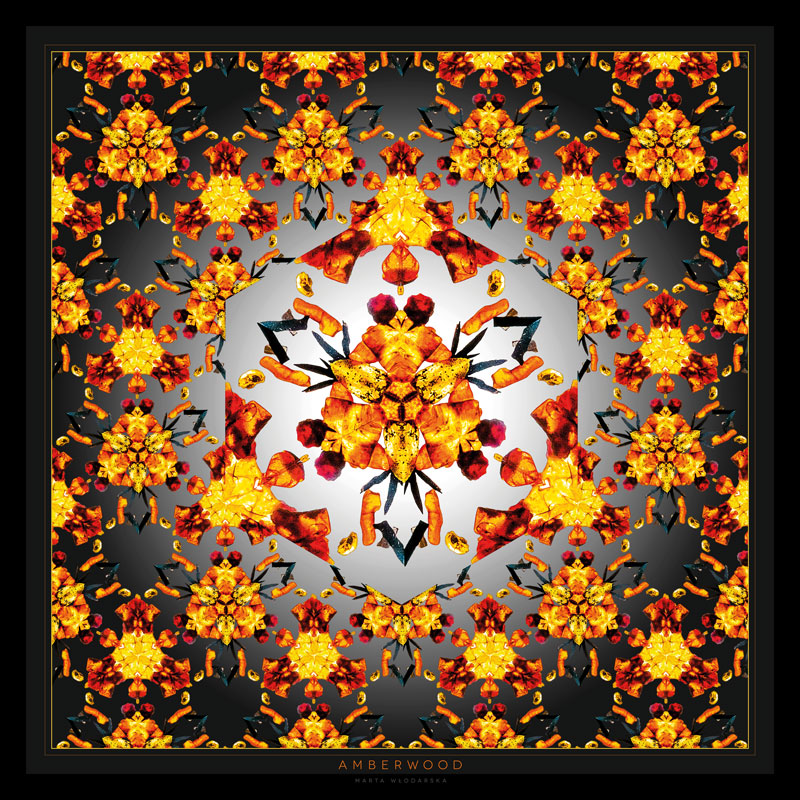 We first showed a video registration of the Amberoscope to the public in May 2015 during the sitting of the World Amber Council in Gdańsk, and the finished, both construction and project-wise, Amberoscope we first presented four years later at the amber festival in Vejers, in Denmark, where it was noticed by the employees of the GeoCenter Møns Klint Geological Museum who were looking for original exhibits for a new exhibition. They were so impressed by the combination of the scientific and artistic elements that today it is in Borre, in Denmark, waiting for the opening of a new exhibition devoted to amber in May 2020. We are really looking forward to the exhibition – we really hope that there will be a show of the Amberoscope projections on cretaceous cliffs, where the museum is located. I can brag a bit that we got that idea as soon as we saw the place and we'd really like to make it come true – be it by us, or someone else.
| | |
| --- | --- |
| | |
Meanwhile my dad is wondering what else could be improved in this composition that has already been refined to perfection, and I am thinking about another spectacular idea of how to use amber and wood. Perhaps someone has some suggestions for us?